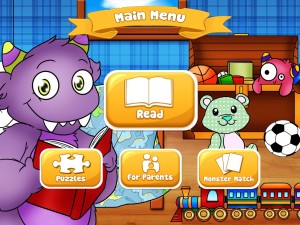 Super Reader's Little Monster Adventure app has won Academics' Choice Smart Media award! To see our app on Academics' Choice website and for a list of app award winners click here.
Here are a few things that was said about Super Reader's Little Monster Adventures: 
The Little Monster Adventure interactive storybooks are superb at developing reading confidence and fluency – the power to read quickly and accurately. The stories are short and engaging for young readers, and the pictures are cute and strangely relateable. The app comes with 10 stories that include Dolche Sight words – commonly used words, most of which can not be "sounded out", and therefore must be learned by sight. Children need to recognize these words in order to achieve reading fluency which is why the concept of this app is so great. 

The functionality is fantastic. The page backgrounds are interactive, words are narrated when touched, words are highlighted during narration, and even the background music, which my kids enjoy, can be easily turned off. The read-out-loud feature is well done and properly paced for children still learning to read. The illustrations are top-notch.
It's a great value for all you get. And the monster match games and fun puzzles enhance the value and fun even more.
I loved that after each page is read, the child is asked to read the page aloud and record it. My boy loved hearing his voice in the playback. I think the combination of hearing the words and then the child reading the words out loud really helps build confidence and pronunciation accuracy.
We are so honored to receive this award!