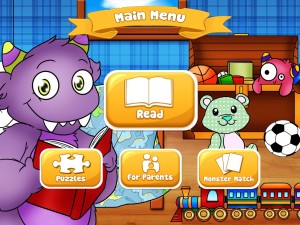 It is finally here!  The new reading fluency app by Super Readers is now available!  "Super Reader's Little Monster Adventures" is a controlled vocabulary educational reading fluency app designed to help your child become a better reader.
Just like our first Super Readers app, Little Monster Adventures is comprised of 10 controlled vocabulary (sight words based) stories that are differentiated by reading levels: End of Kinder, Middle of First, End of First, and Second.
Little Monster Adventures is now available on the App store, Amazon, and Google Play.
From now until October 25th, the app will be free.  If you have Nook, the app will be 99 cents.  Hurry and download yours today!
To view our other apps visit http://www.supereaders.org/super-readers-interactive-book-app/